Super Skinny Margarita Monday Recipe
The next-best thing to drinking Margaritas in Key West
It's Monday and all you can think about is Super Skinny Margarita Monday Recipe you had last time you were in Key West. To make matters worse, you're trapped at home and all you want is to not be stuck at home. Let Party in Key West help take some salt out of that wound (pun intended!) and get you motivated for the second half of Monday. Here's our solution, and we believe is next best thing to being in Key West is to set your mind (and taste buds) back to the tropics of your favorite party island – Key West! Let's get you recalibrated and into a Key West state of mind.  First step, close your eyes and picture your favorite beach or pool… now take a deep breath…exhale (repeat a few times).
Now you're ready for the change of latitude, er I mean attitude! Our margarita recipe for you to keep you striving for your summer body while enjoy a refreshing rocks or frozen margarita. So don't worry about your waistline. Now, go grab your blender so you can make your Skinny Margarita recipe Key West Style and get ready to cool down your core, tantalize your taste buds and sip… relax… and envision being at that favorite pool bar in Key West. 
Margaritas Mondays Motivation
Here is our recipe on how to make Skinny Margaritas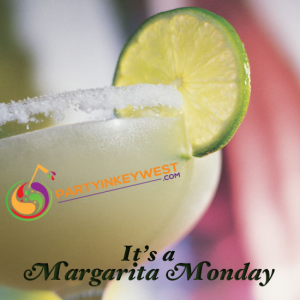 at home …until you can get to Key West and hit one of your favorite Key West BARS (click to find your favorite Happy Hour places to drink or search for your perfect Key West bar).  We hope you enjoy!
NOTE: Be sure to post and tag us with your Skinny Margarita: #PartyInKeyWest @PartyInKeyWest! We will share!
Skinny Margarita Recipe Key West Style
About 100 Calories in this Skinny Margarita Recipe
Ingredients: (Serves 4)
6-8 Key Limes or 2 Limes Squeezed (*See substitutions for more options)
Lemon or Lime or Plain Club Soda / Sparkling Water
6 (or a tad bit more!) ounces of your favorite tequila
1 tsp of Agave Honey (optional)
1/4 Triple Sec (or you can use low sugar orange juice)
2 – 4 TBSP fresh squeezed lime juice (or lime squeeze)
2 Key Limes Sliced to garnish (regular limes will work)
Crushed Ice (for blender or chilling rocks glass)
Optional: coarse salt for rimming glass
Margarita Recipe Directions:
Step 1: Rub the Key Lime wedges around the rims of 4 glasses. If you want salt, place the salt on a small plate and turn each glass upside down, dipping the rims in the salt to coat. Fill glasses with crushed ice.
Step 2: Place sparkling water, tequila, triple sec or orange juice, agave (if you are using it) and add squeezed limes and lime juice and lime husks into into a pitcher and stir. For Frozen Skinny Margaritas, place ingredients in the blender with crushed ice. Blend.
Step 3: Pour into 4 prepared glasses and garnish with lime slice.
Step 4: ENJOY your Skinny Margaritas!
*ALT VERSION: substitute Key Limes for 12 ounces sugar-free Lemonade or ChrystalLite
Super Skinny Margarita Monday Recipe
DO IT ALL WATERSPORTS ADVENTURE by Sunset Watersports
855.378.6386
$
129
Was $149! Save $20!
So you want to go to Key West but think you can't afford it? We think you can! Read on for the how to's! Top 6 Ways to DO KEY WEST on a BUDGET!