Key West Blogs from PartyInKeyWest.com
Destination:
Key West, Florida
Written by Dianne Spoto Ackerman

AUGUST Events in Key West
There is a vibe in the Key West air in August unlike any other month down here. The off-season in August is magical: the throngs of tourists have gone back home, everything is cheaper, the streets and restaurants are less crowded, the warmth of the island intensifies in its glorious, tropical way, and the relaxed vibe is even more chill.
However, if you've come to party, there is no shortage of ways and places to have a blast. In fact, you don't really even need an events calendar in August because you can find a party, happy hour, live band, glorious water sport, or breathtaking view pretty much wherever you look in Key West. That said, there are some notable events that happen here in August that might give you even more incentive to plan a vacation in magnificent Key West in the off-season.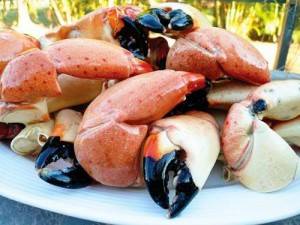 Key West Lobsterfest: A Crustacean Celebration!
August 2, 2015
22nd Annual Battle of the Bars
Bartenders and drink servers from Key West's many bars compete in a wacky, alcohol-fueled competition for fastest drink preparation, quickest drink service, and funniest costumes. Takes place at the Schooner Wharf Bar and provides plenty of uniquely Key West entertainment. Proceeds benefit several local charities. Begins at 12:30pm, Schooner Wharf Bar, 202 Williams Street.
August, all month long
Key West Fishing Tournament
More than 40 species of fish are targeted during these months, with divisions for men, women,
junior anglers (ages 10 to 14) and Pee Wees (under 10 years old). The Key West Fishing Tournament strongly encourages the release of game fish. All participating anglers receive certificates noting their catches and qualify for a variety of prizes. Contact: Rob Harris 305-587-6718; Doris 305-295-6601 Email: director@keywestfishingtournament.com
August 6 – 9
Key West Lobsterfest: A Crustacean Celebration!
Events include a Thursday night lobster boil, Friday night Duval Crawl, Saturday street fair with lobster-inspired culinary creations and a free concert, and a luscious lobster brunch Sunday. The festive feast celebrates the start of the Florida Keys lobster season. Contact: 305-744-9804
August 13 – 16
Tropical Heat
The Key West Business Guild presents this adults-only, all-male celebration that typically includes pool and dance parties, on-the-water adventures, and a fashion show that raises money for a local non-profit organization. Contact: 305-294-4603

August 14 – 16
Second Annual Mystery Writers' Key West Fest
This year's event— open to authors, aspiring authors and non-writing mystery-buffs alike— features international bestselling and global multi-award winning author Jeffery Deaver and includes multiple workshops, presentations and panel events with other renowned crime fiction and true crime authors and one-on-one consultations with publishing industry experts. Also featured is the presentation of the inaugural Jeremiah Healy Mystery Writing Award. Contact: 305-587-9393 Email: info@mysterywriterskeywestfest.com
So now that you know you want to party here in August, all you have to do is book your travel. Come visit us at PartyinKeyWest.com to find everything you need to know about having the time of your life in Key West!
Resources for planning a Key West vacation:
Party in Key West – Online Key West guide for anything and everything to do in Key West, Florida. Key West The Right Way
Only a Weekend In Key West? Here Are Your Must-Do's!