There is so much quirky Key West is famous for: from the live music and party scene on
Duval Street, to the incredible local and international cuisine, to the
breathtaking sea and sunset views, and rich history. But Key West is also a
treasure cove of hidden gems, and there are plenty.  Here are just a few of
ours…
1. Kayaking The Backcountry, Mangroves and Shallow Waters of Key West & Lower
Keys
Explore the Keys in a completely new way by touring the backcountry with Reelax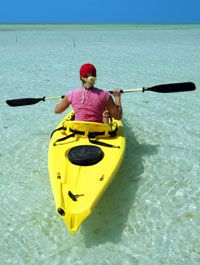 Charters and Captain Andrea Paulson. Enjoy an all-inclusive backcountry
experience that will take you on an easy 20 minute motorboat trip to an ideal
kayaking and swimming hideaway. Perfect for all ages, families and individuals
alike can partake in this unique and exclusive adventure tour with friendly
owner and expert guide of 12 years, Captain Andrea Paulson. http://www.keyskayaking.com/
17015 Overseas Hwy Sugarloaf Marina Sugarloaf Key, FL 33042
P: 305-304-1392 or 305-744-0263
2. Ft. Zachary Taylor State Park
There is a magical little spot on the West side of Key West that not too many people
know about. Sure, it is located on the maps, but most people are too busy
joining in the raucous party on Duval Street, or on a jet ski, or enjoying the
better-known sites. But this park is a beautiful and peaceful place off the
beaten path, where you can enjoy nature trails, a butterfly garden, lots of
shade, picnic tables, and even some original Civil War era cannons, along with
the original structure of the fort. What you won't find? People hawking
souvenir tee shirts, drunks stumbling out of bars, and jugglers asking for
money…. http://www.fortzacharytaylor.com/
3. Nancy Forrester's Secret Garden
It really is a secret because it is in a residential neighborhood, with no big
signgs. You have to look for the place. But once you find it, you will be
delighted to spend time in this small, quiet, exotic bird sanctuary. This is a
hands-on birding experience where you can get very close and sit with the birds
and even hold them. Nancy, the guide, is a sweet woman who loves birds and what
she does, and the door fee goes to supporting the birds.http://www.nancyforrester.com/
4. The Gardens Hotel
Trip Advisor has named it "The Most Beautiful & Secluded Hotel in Key West,"
and with good reason. On the Historic Register of National Places, the hotel
boasts luxury guest suites nestled among some of Florida's oldest and most
beautiful tropical gardens. The accolades are generous all over the internet,
from "Best customer satisfaction," "most romantic," and "Best hidden
value," to being listed in the book 1,000 Places to See Before You Die.http://www.gardenshotel.com/index.htm
5. The Unmarked Home of Tennessee Williams
While everyone is taking the trolley over to the Hemingway House museum, grab a map
and ride your bike over to 1431 Duncan St.. There you'll find the unmarked
house of literary legend Tennessee Williams. The writer's place included a
swimming pool and a writing room he called the "Mad House."  While you
are on the writer's hunt, you can also check out late poet Elizabeth
Bishop's clapboard house that she once owned on 624 White Street and several
of the other properties Hemingway was known for frequenting.
Written
by Dianne Spoto Ackerman      
     
Key West Blogs from PartyInKeyWest.com
Blog provided to you by PartyInKeyWest.com 
Related Tags: Key West,  Key West Florida  
Destination: Key West, Florida